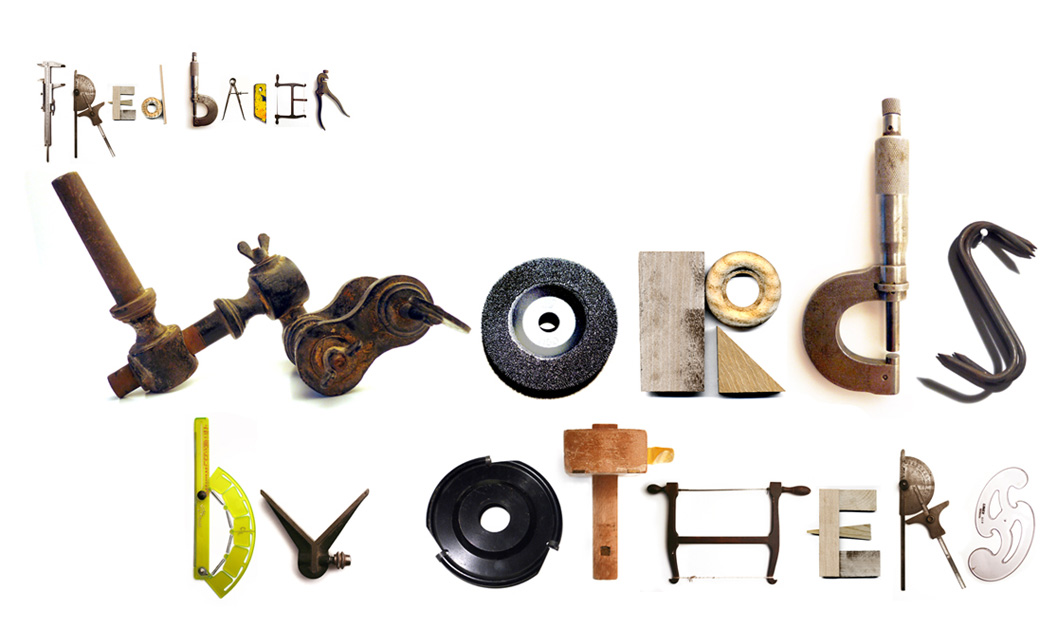 Penny Jones
Article for Arists Newsletter - Summer 2008
Introduction
"My lifestyle is that of an explorer more than a designer" asserts Fred Baier, who is a craftsman with words as well as with materials. He uses them in the same exploratory and creative way, teasing out ideas, reflecting, modifying and then crystallising them, before moving on to address the next question or challenge. Baier has spent forty years working as a furniture designer and maker and he gives voice to his meditations on this career on his website through the adventures and preoccupations of his alter ego, Captain Veneer.
The trajectory of his career is set against the world of craft from the mid 1970s to the present day, and adventures with materials, computer aided design, science and art are situated in a shifting landscape of private galleries, luxury commissions, Crafts Council patronage and more recently collaborative public art commissions. Now able to reflect on the journey he says "I try to be a man of my time – making objects of my time, using and reflecting upon the technology, imagery and other issues of now".
He has exhibited worldwide, and has furniture in collections in Europe and the USA, has published some of his writing, and gives inspiring and entertaining lectures.
Training
While at school, and as a student in Birmingham and at the RCA, Baier says he got jobs where he could learn practical skills. He learnt coopering – the craft of barrel making – which reoccurs in the construction of furniture through his career. He also worked as a pattern maker in an engineering works. Alongside this "I made pop art objects in my own studio about things I'd seen and experienced" including objects for the furnishing of the London shop BIBA. His fascination with all kinds of materials and his need to work things through with his hands, and through drawing, are central to his work. And then came computers. From the early beginning, in the 1980s, Fred worked as a guinea-pig designer helping to formulate programming for 3D design computer modelling.
Development
Baier achieved early success in the 1970s when the Crafts Council was "generous with their support of the artist craftsman". He says that he became one of their "pets", and his work, which he describes as a "crossover between art and furniture" was perfectly suited to the culture of commissioning, a selling opportunity that the Crafts Council promoted rather than the idea of shopping. These early pieces, exemplifying Captain Veneer's motto "Form Swallows Function", were one-offs, made with unusual juxtapositions of materials and imagery that combined engineering, science fiction, and popular culture with fine workmanship. They were instantly collectable, and were bought by private buyers and for public institutions alike and are now fetching good prices in auction.
Riding the crest of a collecting wave Baier lived in the USA during the mid eighties, where a gallerist supplied a studio and an assistant, gave him free reign to make "spectacular things" and sold whatever they made. While this sounds idyllic it was also unsustainable, and Baier has had to diversify to meet the demands of a more competitive contemporary field and of family life. Works from this period include pieces from1988: two versions – goodie and baddie - of Dual Quad, a roll top drop leaf transformer robot desk of stained plywood and steel, or Boudoir Grand Piano, a customised grand piano with wheel arches and 'go faster' stripes, made from wood, steel, mica pigments in black polyester lacquer, gold leaf and stain, in US and UK private collections.
Computer Design
Fascinated with maths and with computers as a design tool, much of Baier's work of the eighties and nineties was developed through the application of commercial and homemade computer technologies, and he was celebrated in the Crafts world "because his furniture is among the first to show us what 'computer style looks like" 1. There was an associated shift in imagery used in his furniture, from machine and space age to pure geometry. At the time Baier asserted "Through this I feel I am taking an active part in our transition from the machine to the electronic age. My pieces are intended as pioneering furniture statements rather than products; observations and thoughts about my time and chosen field."
Now Baier says he "has passed a point where computing has been used at every stage of design, development and manufacture of a piece… I still find a pencil to be the quickest route from the brain to an image." But his embrace of the zeitgeist of the flamboyant and consumerist 80s and the computer optimism of the 90s is characteristic of his stated wish to work in the present.
Studio Practice Baier established a studio in 1975 and has maintained one ever since. His equipment requires a high capital outlay and a large space, and working in shared studios to save money was necessary in the early years. He says he was welcomed by studio groups as he had a name in the early years. But now he is able to rent space to other makers. He employs an assistant, Matt Ryan, who has been with him for years, and there is always a furniture or design student working to gain experience in the studio with extra assistants employed when needed. Quite a lot of his work is also subcontracted out to other specialists in various disciplines as required.
Commissioning
Inevitably commissioning has played a significant role in Baier's career. He has made work for an impressive list of clients, from private individuals and corporations to the Arts and Crafts Councils and more recently for the public sector – museums, schools and hospitals. But he is ambivalent about the relationship between maker and client. "It's fantastic when you sell a piece outright from the gallery rather than some one saying 'Oh I like that but could you do it in blue or can you make one a foot longer'. When you are doing a commission you have to try to please. They want a piece of you and they want to go on the journey with you. You go down roads that you do not instigate." Of his current practice he says the "best working situation is where I get brought in through the recommendation of a designer or commissioning agency. The fact that it is you is underpinned by a professional, and this brings trust between you and the client". He thereby acknowledges an expansion of roles, the transition he has made from artist craftsman to collaborator and designer. However, a tension remains: between his desire to be independent, "to make things from my own stock of ideas" and the need for collaboration in the current commissioning climate.
Public Art
Recently collaboration with other makers on public art commissions has become part of Baier's normal practice. This brings opportunities to work with, and test, new materials and to be involved with skilled technicians and specialists. He is producing seating for Slough High Street on one such programme, and continues to undertake commissions for private individuals.
A recent commission "Journey through a Log" at Ifield College, Crawley, West Sussex brought him into contact with a school and its students. As one of a group of artists commissioned to make works for new school buildings in Crawley, Baier was asked to have an idea for an oak tree felled when the new college was built. The tree trunk was planked and reassembled, raised up on legs so that the slices are at eye level. He turned to sophisticated scanning equipment to explore the various cutting options that would provide the most useful resources for a his range of ideas. He says "the intention is for different subject departments in the school to use the piece as a teaching aid. Aspects which may be highlighted are the 130/140 years of the tree's existence; discovering past climatic patterns, volumetric, weight and strength data, other mechanical properties, sociological implications, and uses for oak."
Teaching
Teaching he says "is a contemporary form of patronage. It helps young graduates and provides careers for many gifted people to pass on their passion to the next generation as well as bridging their lean times" but it is evident that he enjoys it and finds it rewarding, valuing the interaction with younger makers. He used to teach at the Royal College and is an entertaining and inspiring speaker who acknowledges that "energy is with the young. They provide the power and velocity …. In my youth I was lucky to catch rides with many a good tour guide from whom I learned a great deal. Now that I'm older I hope I can offer some young whippersnapper a leg up and a kick in the pants."
Baier took on the role of mentor, when working on Journey through a Log, sharing his knowledge and skills with the young Will Hardie who assisted him. He is generous with advice in his words "Having a VISION and dealing with REALITY: Fred's advice to budding artist craftsmen".
The Future
Despite not selling through a gallery his work of the 70s and 80s is now selling for good money at auction. "I stick to no rules but try to be a man of my time making objects of now. All means of expression, in whatever medium, are appropriate to my intention."